Baseline is a bit different from your traditional design tool. Usually, you would jump right into creating a design, but since Baseline is more than just a design tool, we need to take care of a few things first. This article will go over the steps necessary to create the foundation to create solid, on-brand content with a single click.
The Brand #
Since Baseline applies your brand for you to design templates, you need to set up your brand. Don't worry; Baseline makes it as easy as possible to create your brand, and you even end up with a free brand guide as a result. You can then share that brand guide with others and easily copy-paste values from it. Baseline will then leverage that brand to make it incredibly easy to create branded designs.
Setting up the brand #
The main two things you need to set up the brand guide are the name and a logo. If you don't have a logo yet, we recommend you to head over to our friends at Logology, answer a few questions, get matched with an awesome logo, and then come back and continue the brand creation. You can also skip the logo stage and add it later. Baseline will create a simple placeholder logo using the headline font you will add later in the flow.
Logo variations #
Baseline will create black and white versions of your logo automatically. However, it can't handle every logo correctly, so it will ask you to confirm those versions or upload your own if they don't look right.
Colors #
Baseline will automatically extract the colors from your logo, so you shouldn't have to do much at this step. You can, however, rearrange them in terms of priority. Your primary color should be the first on the left. You can also add or remove colors as you please.
Typography #
Baseline makes it extremely easy to select your font if it's already in Google Fonts. If it's not, don't worry. Baseline also makes it very easy to upload your own font.
Type Scale #
Once you've set your typography, you are ready to set your type scale. A type scale is vital to keep your brand looking professional across mediums. If your type scale is all over the place, your brand will look inconsistent and amateurish.
Brand guide #
When you finish your type scale, your brand guide is ready. Baseline will present everything in a neat presentation. Once you sign up and claim the brand guide, you can set it to public and share it with others to help everyone keep it consistent no matter how they are using it.
It only takes a click to download the logos, and you can easily copy-paste values for everything, like the colors and the type scale. Baseline even automatically produces CSS, SASS, and Tailwind values that you can copy to your project.
Designs #
Once you finish your brand guide and sign up, you can finally pump out branded content like there is no tomorrow.
Since we already got all your brand details, Baseline makes it super easy to create branded content. In the previews, every design looks like it has the Baseline brand, but once you select the template, you are asked to select the brand you want to use for this design.
In our example, you see the Google brand we've been using in this tutorial. When you click on that, the magic happens that makes Baseline save you countless hours of work. It automatically replaces the default Baseline brand with your brand, or in this case, Google.
What you end up with is an on-brand design without any effort. All you have to do now is update the text and maybe modify some details if you like. In our example, we changed the text slightly and replaced the illustration with a new one from our Elements tab, which also automatically matches your brand.
Conclusion #
That's all it takes. The first few steps in this tutorial, up until Designs are only necessary when adding a new brand. Once your brand is added, you can continue to create as many designs as you want in one-clicks. I encourage you to sign up and give it a try. We are always open to feedback and eager to improve Baseline, so don't hesitate to reach out.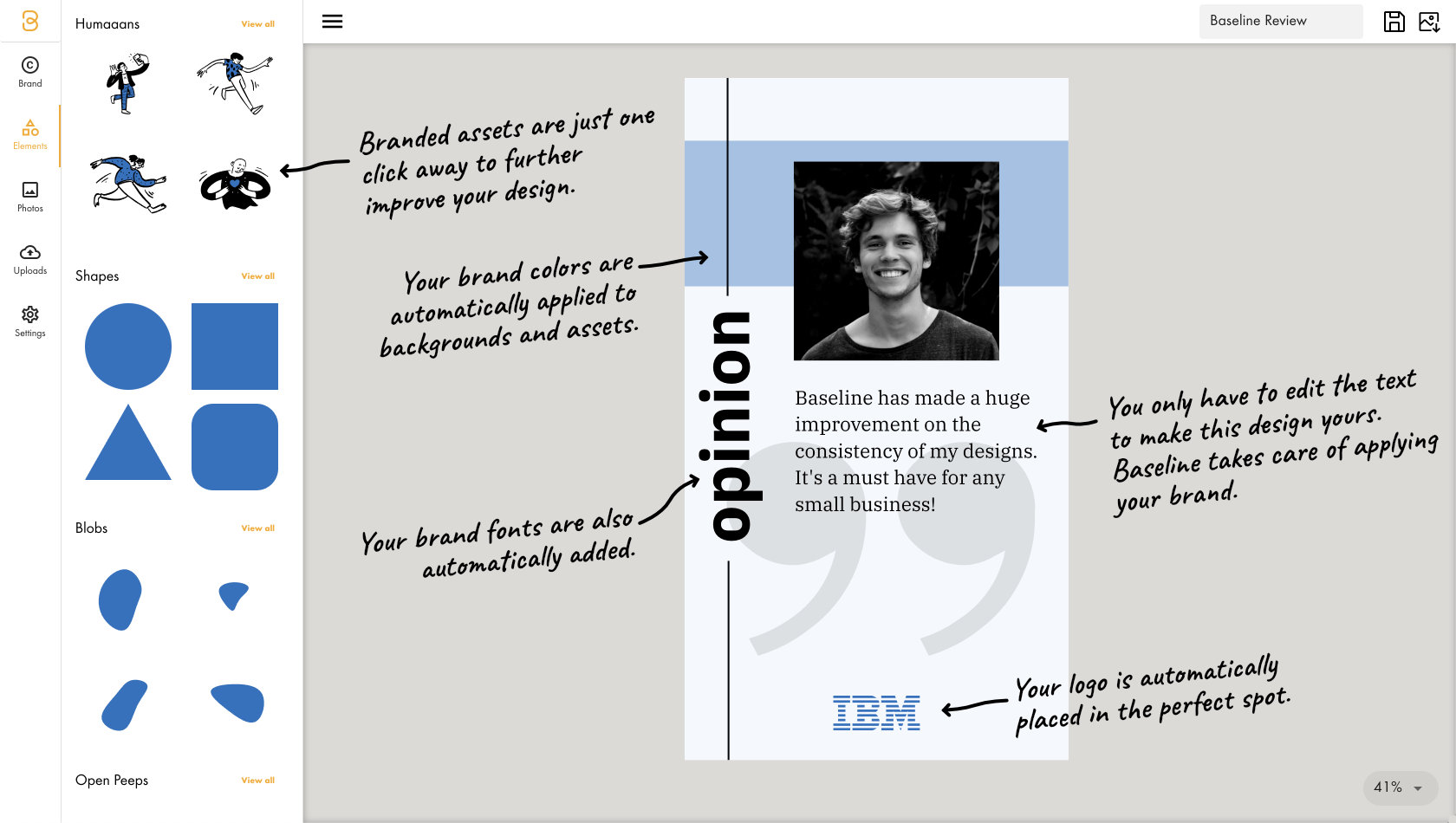 Have you tried Baseline?
Create branded designs with a single click using our incredibly simple graphic design tool and make a recognizable brand.
Try it out!